Some work made in Cologne:
Polaroid Feedback, unnumbered edition of 3 + 1AP, 2009
Unlike traditional video feedback, this Polaroid doesn't reference the infinite extendibility of a single moment, but rather it reverse engineers the collapsibility of many moments into one.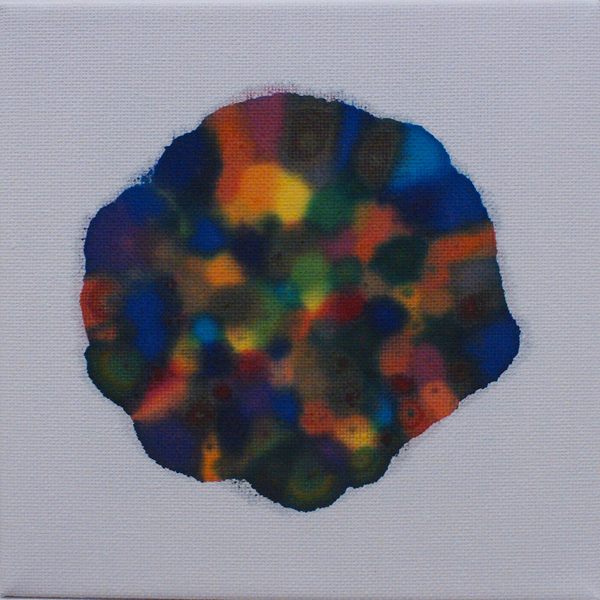 Seep, ongoing series of works on canvas, various dimensions, 2009
These are automated works on canvas, where various configurations of bundled markers are left standing on canvas for various periods of time so that the rich, pure colors seep through.
Pile and Seep, Video Installation with 6 canvases, 2009
A monitor plays a video loop of the process of making the canvases: the colors seep through. The monitor expands its frame and the canvases pile and mount.
Hilary Hahn Polaroid Grid, 2009, 81 unique Polaroid Photographs, 96cm x 80cm
A single portrait of the artist Hilary Hahn is embedded in a grid of 81 (9x9) Polaroids. Here, both time and space are elongated beyond the confines associated with "One Step" photography.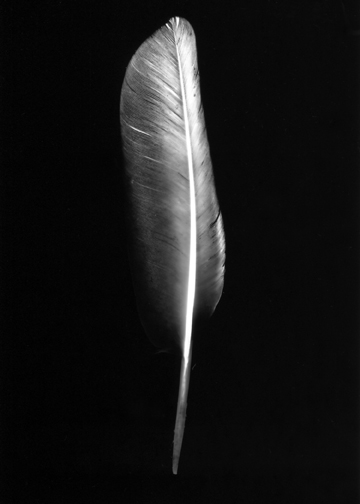 Feather, unnumbered edition of ten + AP, 2009
Light in mass, a feather is an example of an object whose translucency is such that in negative, as here, it appears in positive. Contact prints have the additional advantage of grainlessness, reproducing high detail in a way that other photographic techniques cannot.
Sway, Slide Projector Installation, 2009
In motion picture lingo, vertical movement in the projected image is called 'jitter', horizontal movement is called 'sway'. A slide projector shouldn't have any problems with horizontal movement unless you hang it from a cord, build a sail for it and fill it with the wind from its cooling fan. Is it the projector floating in the image or is the image in the projector afloat?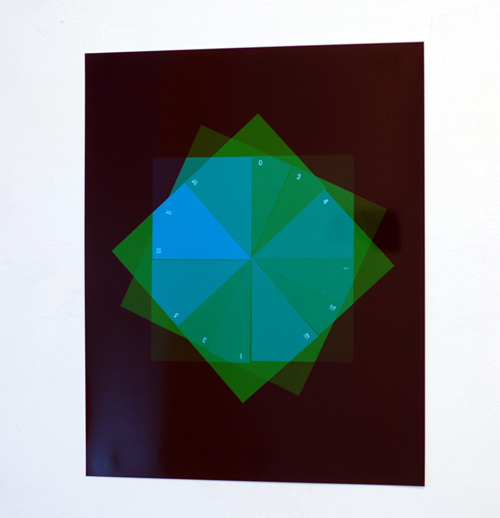 Multigrade, unique color contact print, 16" x 20", 2009
An indispensible darkroom tool for any black and white photographer is Ilford's pack of Multigrade filters. They allow for considerable control over contrast while printing on Multigrade black and white papers. However, when laid onto color paper they not only lose that control, but they also show up in the negative of their standard magenta colors. The form is copied from the logo on the pack, where all twelve filters are fanned out in a circle.
3D (VG), edition of 5 unnumbered unique contact prints, 16"x 20", 2009
Laying a pair of 3D glasses onto a piece of color paper in the darkroom results in a white shadow because the light can't go through the cardboard. However, where light is able to go through the red filter, it leaves the impression of blue and where it is able to go through the blue filter, it leaves the impresion of red. Cutting out the arms brings the 2D image into the third dimension of true stereo depth. That last part was Vesko Gösel's suggestion, hence the VG.
Cultural Capital, silver gelatin photgraphs, edition of Euros and Swiss francs, 2009
Contact-printing currency reveals both the front and back as well as the inside of these sophisticated paper objects. Because Euro and Swiss franc notes are all different sizes, they compose themselves differently on the photo page. Each photograph is for sale at face value and the series can be printed whenever I need more of it, just like in other monetary systems. The 5 Euro note actually costs more to produce than it is worth, but in order for the entire system to work, items with a lower worth must be there to offset items of a higher worth. Haven't artists always had an economic crises?

All of the Euro & Swiss Francs are viewable as a pdf here.