Hard Rain, solo show, Simultanhallle, May 5th, 2014 - May 25th, 2014 (gallery views and selected work details below)
Left: Einkaufswagon, Color Print (contact print), 127cm x 90cm, 2012
Center: no neon never, light installation, orange power cord and light source, dimensions variable, 2014
Right, Eidola, SD video look, 6 minutes, silent, 2014
Left: Imaginary Landscapes, slide installation with 80, handmade slide collages, 2014
Center: Kosmos, slide installation, custom projector, glass tube, goldleafed ball, round mirror, 2014
Right: Tumbleweed Cloud, cyanotype on handmade paper, 200cm x 120cm, 2014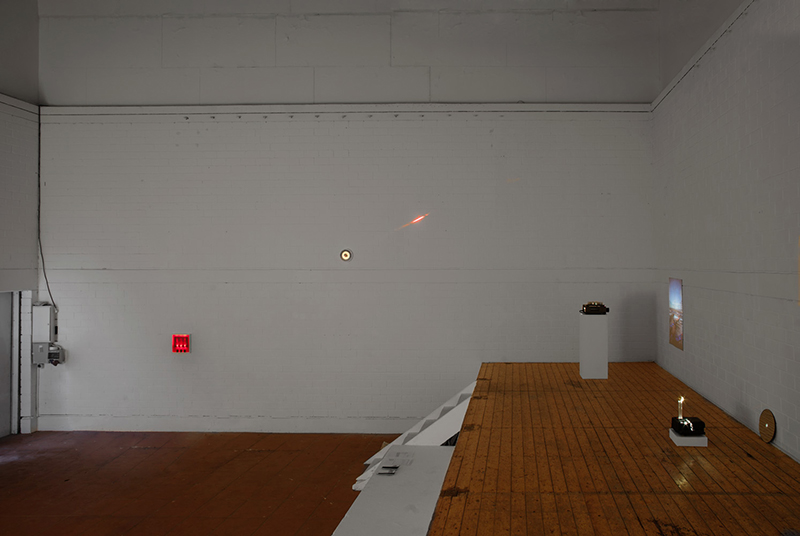 Left: This too shall pass, 18cm x 24cm developed/unfixed siver gelatin print mounted in frame with 3 LEDs, 2014
Center: Sundial, laser light installation with 24 hour clock, mirror and goldleaf, 2014
Kosmos, documentation of a light installation, 2014
Imaginary Landscapes, documentation of a slide installation, 2014
This is a documentation of a slide installation shown in the solo-exhibition "Hard Rain" in the Simultanhalle in Köln, Germany from
the 3rd of May to the 25th of May, 2014. The images were all made during a research excursion in the western part of the US with
the Pavillon, the artist's residency of the Palais de Tokyo in the spring of 2013. The slides were shot on 35mm film and later edited
with a 35mm editing machine. These editing machine are used to create the artificial landscapes of the cinema, many of which are
based on and around the south-west region of the United States. In some of the images, the editing machine is revealed. Since this
machine can only make straight cuts, these "slide collages" contain a single cut across the horizon, resulting in portrait-oriented
landscapes that present skies and grounds that only truly exist in our imagination.