Sound Mind Body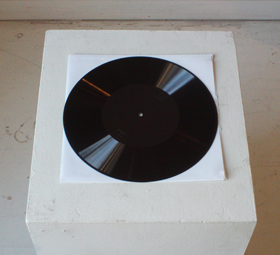 Fire Rises/Water Falls, 12" lacquer dub plate record, edition of one, 2008

One side of this record plays the sound of fire crackling in the night air, the other plays the sound of a waterfall in the rain. Because these sounds were etched and not pressed in the surface of this lacquer disk, the first dozen or so times it is played they will sound better than if they'd been pressed in vinyl. However, because the grooves are hand cut, they will soon loose their fidelity and the signal will, through repeated playing, give itself over to noise. White noise, in the forms of a warm fire or a waterfall can be very soothing for humans. I suspect because they fill the senses and are sounds we have been listening too for millenia.
Nude Descending the Stairs, sound installtion, dimensions variable
A duplicitous sound event curls your toes. Is there a difference between one foot twice and two feet once? Do twins get to have Doppelgängers?
The Hours, 60-minute looped sound installation, CD, CD player, clock, 2008
A voice reads time aloud without end. If you start the CD on the hour, the player becomes a clock.
Perfect Pitch, 1996/2006
This is a CD with 99 tracks designed to help people increase their sense of pitch and hopefully develop perfect pitch, which is the ability to recall the name of a pitch simply by hearing it.

The idea is to listen to the 99 tracks on this CD on shuffle. Each of the 99 tracks contain piano tones, but half of the tracks contain a human voice simultaneously naming the pitch that's being played. In other words, half of the time one hears just a piano note and the other half of the time one hears a piano note and then the name of that note being spoken over it.

Perhaps, by miracle of cognition, if one were to listen to these 99 tracks, on shuffle, awake or while sleeping, one's mind would begin to anticipate the name of the track appearing -even in the tracks where the pitch is not named.

That would be learning perfect pitch.
Here you can download the zip file containing the tracks. Burn them to a CD, play it on shuffle, let me know if it works.